Ensuring Consumers Receive the Care They Need
Patients are consumers, and they expect a consistent experience throughout all their interactions, including with their healthcare providers. This elevates the need for convenience and simplicity; meeting them where they are. AccessOne embraces a digital approach that empowers patients looking for bill payment assistance. This drive to enable the patient has great healthcare system benefits as well, as seen in our client's health system where there was a reduction of inbound calls by over one-third.
AccessOne is part of the Epic App Orchard and has delivered multiple tools to bring an excellent patient financial experience, directly accessible from your Epic platform. Our Patient Extension creates a seamless flow for patients to enroll into extended payment plans from MyChart.  Our Provider Extension reduces work for your staff through automation.  Patient data is pre-populated from Epic, and staff can share customized payment options with a text or email directly to the patient with a click of a button.
The Patient Extension Tool in Epic MyChart
The move toward self-service options for account management—including enrollment in patient financing—goes beyond convenience. It also plays a key role in improving health access, affordability, and health equity.
The ability for patients to both communicate their need for patient financing in a private setting and self-manage their accounts has had a dramatic impact on revenue cycle efficiency. For one organization, the AccessOne Patient Extension in Epic MyChart tool saves 186 FTE hours for every 3,700 charges. It also eliminates the need for patients to manually enter data when they enroll in financing online, contributing to a more seamless patient financial experience while protecting data integrity.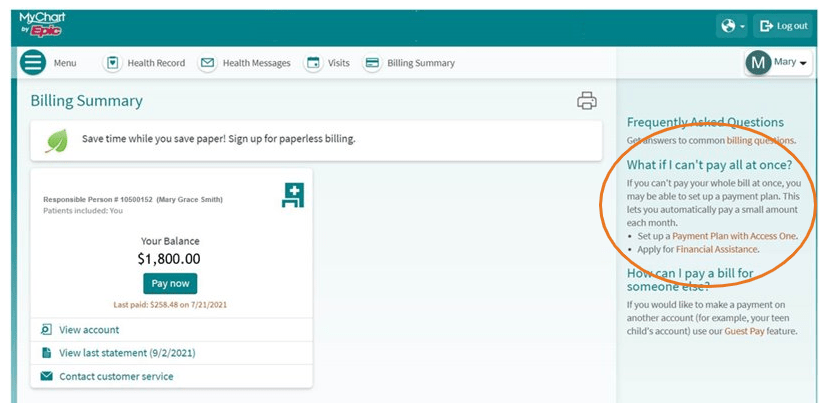 Providing a variety of payment plan options and promoting them widely helps ease patients' financial concerns prior to their care encounter. At a time when 58% of consumers say they have delayed medical care to avoid a healthcare bill, integrating patient financing options directly within MyChart gives consumers the information they need to make informed decisions. This helps ensure patients receive the care they need, no matter their financial circumstance.
Atrium Health, based in Charlotte, N.C., is an early adopter of the MyChart self-service account option via AccessOne. "It's a big win for us," says Chris Johnson, Vice President Revenue Cycle Management for Atrium Health. In 2021 alone, more than 15,000 unique users applied for a payment plan for the first time using the MyChart option offered via Epic and AccessOne.
"At Atrium Health, all patients with a balance remaining qualify for patient financing, regardless of their past payment history or credit score," Johnson says. "By accessing their account via MyChart, patients not only gain the ability to self-enroll in patient financing, but they can also individualize the terms of their plan to fit the monthly payment amount they can afford at any point in time. This enables patients to pay with dignity and manage life's changing circumstances over time no matter their financial circumstance."
Establishing a pathway for self-service appeals to patients because it gives them the information they want and need, on their own time, from the comfort of home and via any electronic device. More and more, a thoughtful approach to tech-enabled account management is fast becoming a competitive differentiator in a rapidly evolving market.
Less Stress for Revenue Cycle Staff with the Provider Extension
AccessOne also has a staff assistance package called AccessOne Provider Extension, featuring near real-time text and email enrollment tools with automation to reduce the work for revenue cycle resources. When your staff (pre-service, patient access, financial counselors, customer service or vendor partners) discover an individual who could benefit from payment flexibility, they are able to quickly pull the patient's data from Epic and click "enroll." Patients receive a link via text or email to complete enrollment on their device. Data fields are automatically prepopulated, enhancing patient convenience while reducing the time staff need to resolve the patient's needs.
As healthcare revenue cycle teams across the nation deal with workforce shortages related to the Great Resignation, self-service options for patient account management are a vital tool for protecting operational efficiency and reducing the risk of burnout.
A Trusted Partner for Epic Health Systems 
All of this includes support to install these packages as well, which reduces client IT required time by over half.  AccessOne worked with Epic for a year in designing and optimizing these features, accessible via the Epic App Orchard. With backing from Epic, you can be sure our approach is safe, secure and highly reliable.