Created by brothers Bill and Peter Dolphin, along with Damian Hagge in 2017, MobilePay is singularly focused on making patient payments easy.
There was a clear need in the U.S. healthcare market for a mobile-first patient payment solution that relied on the way people prefer to actually communicate: text-messaging.
This is why AccessOne acquired the technology in late 2021.
Existing patient payment channels haven't really changed much since the launch of the iPhone back in 2007. Most revenue cycle teams were still relying on mailed paper statements, phone calls, and emails/text messages that point to a patient portal to collect payments. Maybe some organizations also have IVR systems in place.
But technology and expectations change quickly. High-deductible health plans made patients payments collections and subsequently any lost revenue a real concern for hospitals and health systems over the past five years.
Simultaneously, text messaging has become everyone's preferred method of communications and new easy mobile-first payment options like Venmo, Shopify, and Amazon's one touch button, made everyone believe payments should be completely frictionless regardless of industry.
So, here we are
In 2021, nearly 80% of revenue cycle leaders say collecting patient payments is their greatest challenge and approximately 46% of consumers say that healthcare is by far the hardest industry to make a payment in.
That's why AccessOne's MobilePay exists.
The product was created and designed with all of these challenges in mind. MobilePay makes it easy for patients to pay their bills by meeting them where they currently are (not where we wish them to be — an important and crucial distinction). And by making it easy for patients to pay their bills, we're also tackling the problem for revenue cycle teams who say patient payments (the lack thereof) are their biggest challenge.
MobilePay was designed for simplicity for both patients and revenue cycle teams.
What is AccessOne MobilePay?
A new payment channel that leverages SMS technology.
Patient statements are sent automatically via text messaging.
Payments are made without needing an app to download, a portal to log into, or a paper statement to be referenced.
Once payments are made, statements are reconciled automatically so there's very little for revenue cycle teams to do.
MobilePay performance is transparent via our performance dashboards to see how much and how fast revenue cycle teams are collecting patient responsibility. They can also better understand the percentage of statements viewed and paid, how many patients didn't have a mobile number or opted out from receiving texts, etc.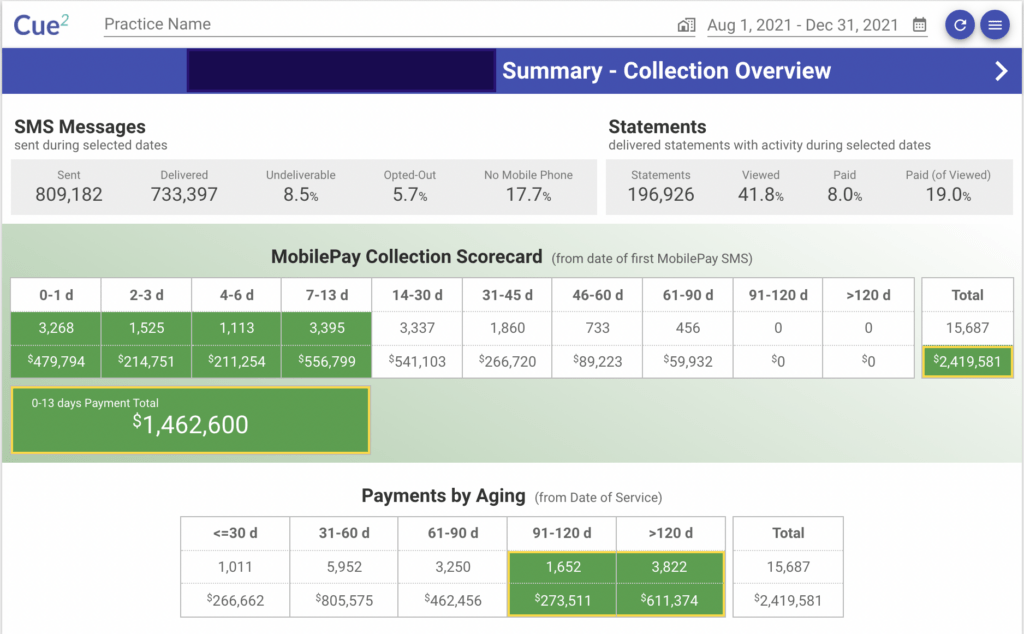 It's HIPAA, TCPA, and PCI compliant (not to mention we're in the process of earning our SOC2 compliance).
Pricing for MobilePay is on a per text basis, making it far fairer and simpler than other solutions on the market that nickel-and-dime customers by taking a percentage of collections, or payment transaction fees, or sell more technology than what's needed to actually collect payments from people.
MobilePay integrates with every major medical billing and statement platform, which means we can get customers up and running on the system from signed contract to go-live in about 4-6 weeks.
All told, this is why MobilePay is one of the best SMS payment providers in healthcare and why trusted health systems such as Main Line Health in Philadelphia, PA, Mount Sinai Doctors in New York City, Baptist Health in Jacksonville, Fla., Evergreen Health in Kirkland, Wash., and Beth Israel Lahey Health in Boston, Mass., rely on AccessOne to collect patient payments in hours not months.